Donald L Robertson City Park
Amenities

Explore the Gorge Hub

Host an Event

Wetlands & Nature Preserve

Park Updates

Getting Here
As the "Crown Jewel" of Wood Village, the Donald L. Robertson City Park features activities for all ages
TRAILS
Open and wooded trails with new wood chip paths
Winds through the park, playground area, wetland and habitat preserve, and connects to nearby neighborhoods
On-leash dog-friendly with dog waste bags & stations
SPLASH PAD
Seasonal feature on the City Hall & Civic Center Plaza for hours of endless, free water fun
PLAYGROUND & SPORTS
Outfitted with safety surfaces to protect children while providing a more enjoyable and stable surface
Engineered wood fiber surface that is soft, but sturdy enough to support a wheelchair
Enhanced basketball court with a new sports court surface, hoop, and lights for all-day play
Open field area for soccer, baseball, kickball, and more
GAZEBO
Constructed in the northern grove area of the park with the help of the Rotary Club
Available for people and groups to rent for gatherings such as parties, weddings, or music festivals
ARBORETUM
With the recent addition of Dogwood, 2 different varieties of Maples and Oaks, Kwanzan Cherry, Red Alder, and Capital Pear, there are now 30+ trees in the arboretum. The eastern portion of the Arboretum is dedicated to native shrubs including some edible varieties such as huckleberry and blueberry.
The arboretum is still be undergoing improvements including:
Additions of more trees and shrubs.
Two acres of park offering spectacular fall colors and plant diversity for the enjoyment of visitors
SMART PARK
Free WiFi
Solar Smart Benches (phone/device charging)
About the Hub
Being the Base Camp for all Columbia River Gorge, Mount Hood, and PDX activities is more than just being a "jumping off" point to these destinations. It is about providing information, and a world-class experience. This is what we hope to achieve as a Gorge Hub stop. This joint effort with ODOT, Oregon State Parks, Travel Oregon, and other communities of the Gorge adds a unique and one-of-a-kind experience for residents and travelers through the Gorge along the historic Route 30 Highway and Trail.
While each Hub along the route will be unique to the host community, there will be some unifying features. Enhancements around the restrooms include rock retaining walls, accessibility ramps and walkways, added bike racks, additional signage, and landscaping.
This project was identified in the Parks Master Plan and Capital Improvement Plan. Construction was completed in March of 2020 by Lee Contractors, LLC.
Plan Your Trip
Sasquatch Shuttle offers shuttle service in the Waterfall Corridor from their parking lot just off I-84 at exit 28. Between Memorial Day and Labor Day, Sasquatch will also offer weekend pickup locations at the Gateway to the Gorge Visitor Center in downtown Troutdale. The first pickup at the visitor center will be at 9:00 am, 11:00 am, and 1:00 pm with a 5:30 pm drop off only and for guests at McMenamins Edgefield.
For $15 per person riders can enjoy on and off privileges so they can take extended hikes between attractions or spend the day hopping on and off the shuttle to see them all. Kids 3 and under ride free and dogs are allowed on the buses! Pricing includes parking at their Bridal Veil lot and riders are not required to arrange reservations for access to Multnomah Falls. You also have the option of a buying just a 1-day parking pass for $5 and hike from there.
Visit sasquatchshuttle.com for full details including pickup times and route maps.
GOrge Pass & CAT Bus
Ready to plan your trip? Be sure to purchase a GOrge Pass for full access to the historic route before embarking on your journey. Hop on your bike or the bus from Donald L Robertson City Park for easy access to the Troutdale CAT bus stop (900 Block NW North Frontage Rd) .  For information on biking the Historic Columbia River Highway, visit gorgepass.com/bikes.
The Donald Robertson Park is the perfect place for your family or business event or celebration.  In many cases, the facilities can be reserved at no cost. Call (503) 667-6211 to check facility availability.
Facilities at the Donald Robertson Park are available for private parties and events
Facilities include the Gazebo, Picnic Shelter, and Sports Field
No fee or deposit for most private groups of 100 people or less
Supporting Documents
One-Day Park Facility Reservation Form (PDF)
A boardwalk has been installed over a portion of the wetland area to give visitors a closer view of the wetland while allowing dry passage to other areas of the park.
The wetlands wildlife habitat protects and enhances the creek's ecosystem and it provides benefits to our community. Benefits include:
Maintaining proper water flow and meeting clean water standards in Arata Creek
Prevent seasonal flooding from affecting neighboring properties
Improve wildlife habitat in the watershed, including habitat for waterfowl, endangered Columbia Gorge turtles, and fish
Create an opportunity to reintroduce native plant species
Provide a natural environment for citizens to engage with a properly managed stream ecosystem.
A learning center overlooking the wetlands area which provides an atmosphere for students to view learn about our ecosystem.
The preserve has a regional impact as it is located in Metro-classified Regionally Significant Habitat Class II and Class III Riparian areas.
This project created a Wetlands Pond and Habitat  Preserve on Arata Creek in the Park. The funds to create the pond and preserve came from our $293,000 local share of the Metro Parks Bond that was passed in 2006.
NEW PARK SIGN
We've posted some new signs at our Donald Robertson Park to remind visitors of some important park rules.
Walk, Do Not Ride Bicycles:  Our trail is not designed for both bike riding and pedestrian use, so please help keep the community safe and avoid an incident by walking your bike through our park trail system.
Keep Pets on Leashes:  A walk through the park with your dog is a great way for everyone to get a little activity.  Please remember that there are no off-leash sections in the park, and you must keep your dog leashed at all times.
Tobacco Use Prohibited, No Smoking or Vaping:   Smoking or vaping is prohibited on park properties.
Thank you for enjoying our park and for following these simple rules which help keep everyone safe.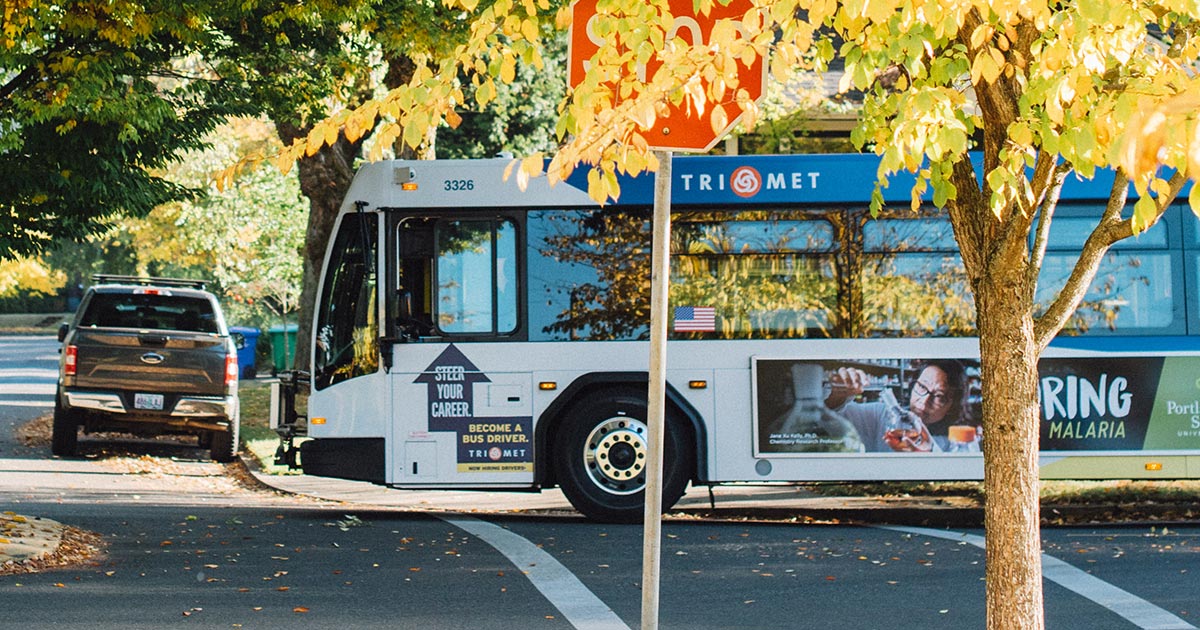 Walk, Bike, or Ride
Getting to the park couldn't be easier.
Riding the bus? TriMet Bus 77-Broadway/Halsey runs from Montgomery Park in downtown Portland to the Troutdale Airport with two stops right in front of Donald L Robertson City Park on NE Halsey Street.
Plan Your Trip
Biking to the park? As a Gorge Hub stop, we have extra bike racks, restrooms, and a Gorge Hub bike trail map that follows the historic Columbia River highway.
Walk to the park by connecting at the neighborhood trailhead off of Hawthorne Avenue by the Treehill Condominiums.
Get Directions